Vintage: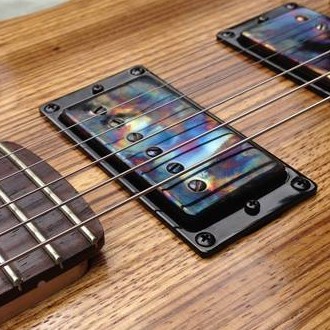 Custom '58
Open, bright and true to the early PAF spirit.


Whiskeyssipi
For the lovers of deep, creamy tone with responsive touch.


Transformer
A Fender-y single coil sound, but in a noiseless humbucker.

"Anyone looking for an old-school Les Paul sound should try a
Whiskey neck and Custom '58 bridge combination."
Medium Output :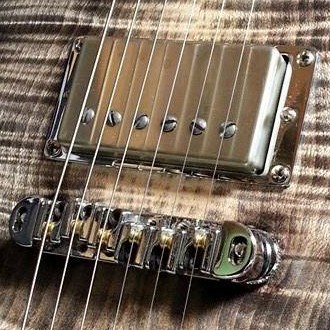 Outlaw
Overwound, while still being a PAF. The choice for classic rock.


Special V
Our most balanced humbucker, with enough power when you want it.


Hummelbucker
Specially made for Hummel Guitars, biting tone with balls.


Rising Sun
Very warm and singing, turns a bright guitar into a thick beast.

"The Special V neck is killer with the Rising Sun bridge,
pushing the amp while retaining complete versatility."
Modern :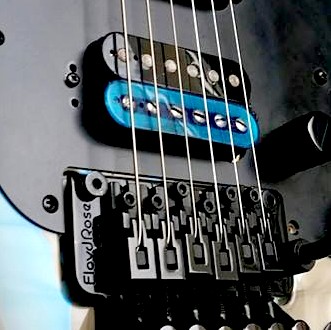 Flaming Pepper
Let your hair grow and play some heavy-metal with this spicy one.


The Raw
Joce's favorite, a screamin' machine with incredible accuracy.


BG Blaster
Made for Benoit Guibert Guitares, agressive and laser-sharp lowend.


Bucking Bull
Crushing tone, designed for metalheads who want maximum impact.

"The 'Desert Falcon' set, wich is a Raw Neck and Bucking Bull Bridge
is a favorite for hi-gain, with excellent, clear splits."
~SINGLE COILS~
Strat :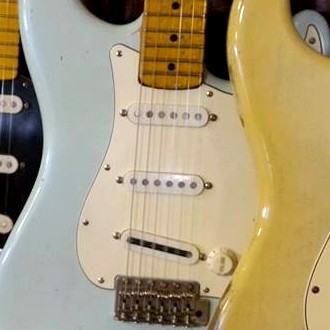 Hippie
Crystaline, glassy, shimmering... the tone of the psychedelic years.


Stinger
Enough power to rock the house, while still sounding like a strat.


Single Shot
Fat and greasy, with hints of P90 attitude.


Wiseguy
True single coil sound, but made for hi-gain players.

"Many strat lovers use the combination of a Hippie for Neck & Middle
with a Stinger in the bridge for total flexibility."
Tele :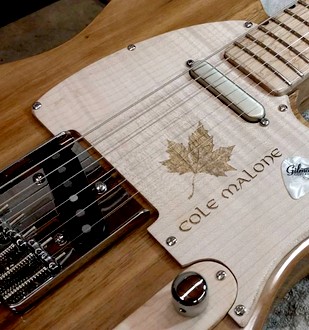 Frontierman
Old-school twang, in all its glory. Killer for country and funk.


Golden Gate
Very dynamic, from clean to crunch. A session player's favorite.


Rebel
Overwound, hot and ballsy, with a big fat bottom end.


Hitman
Turn your Telecaster into fire-breathing metal machine.

"Our Tele sets are designed to work in perfect synergy
as neck & bridge, no need to mix and match."
P90 :
(All models are available in soapbar, dog-ear and P94 format)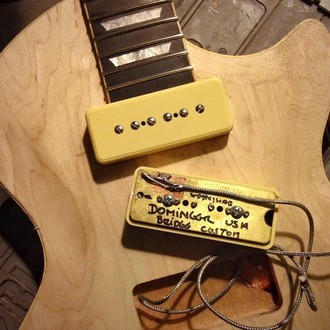 Slick's Pick
Authentic 50's tone, bright, snarly and very expressive.


Alchemy
Dark magic for the rock and stoner wizards.


Twin Charger
A mean P100 stack, but splittable for true P90 operation.


"For a fantastic blues set that will go from sensitive cleans
to wailing overdrive, try a Slick Neck with an Alchemy bridge."
~BASS~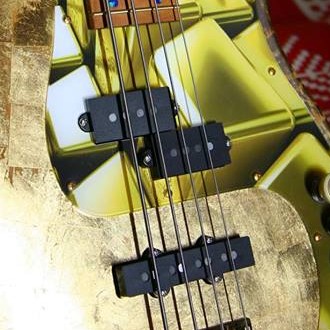 The Thumper
Dominger's special recipe for the ideal classic P-Bass pickup.


Killer Whale
Massive lowend power that will make your P-Bass go into the deep.


Jazz Cat
Mixing the best of 60s and 70s eras into an superbly balanced J-set.


Carburator
Bass humbuckers so high-octane you won't need a preamp, crisp splits.


"The Thumper paired with a Jazz Cat bridge is an incredibly
versatile combination, ready for any style."
ORDER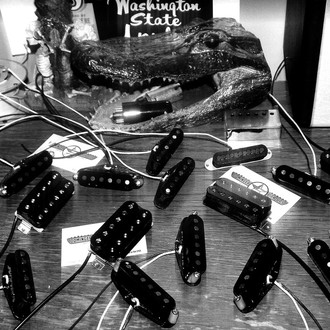 Want to order direct from us ?
Click here and go to our Online Shop.
When we say "Custom Pickups", we mean it.
Every single pickup is made specifically for every single client.

Please do tell us what ideas you have for your base pickup
and we will tweak it specifically. That's 'custom made'.
Got a crazy request ? Email us at:
domingerpickups_at_gmail.com
F.A.Q.'s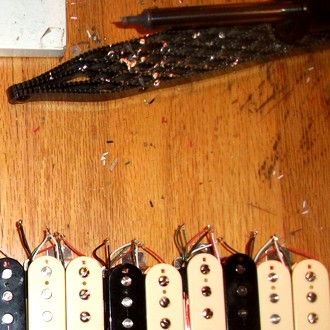 Q. I've seen boutique builders charging much more for their pickups.
How come yours are this cheap ? Is there a catch ?
A. No catch. We are guitar players first, and an artisans second. We're far from big business people. We love what we do, and we believe our pickups are among the best, but they should not be reserved to an exclusive elite. That's why we only sell direct as well.
Q. I got this crazy idea ! Could you build a __ pickup for my __ guitar ?
A. Sure ! We are used to getting asked to do all kind of crazy builds.
Just shoot us an email and we'll send you a quote.



Q. What are the inductance of your pickups ? The resistance ? What kind of alnico does this model use ? What about resonant peak ?

A. We don't talk about all those things unless specifically asked to,
even though we generally do use Alnico 3, 5, 8, Ceramic magnets. Inductance, resistance and resonant peak can all be misguiding, and we'd rather talk to you directly about what would fit you best.
FRIENDS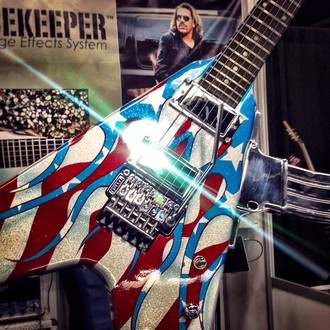 ~Luthiers~
These are some of the passionate luthiers
we're proud to work with:


Guitares Benoit Guilbert
Jaminon Guitars
Branch Guitars
Booches Guitars
Equitz Guitars
Lutherie Lauberteaux
The Peacekeeper
Phat Guitars
Gilmore Guitars
Spirit Dance Guitars
California Guitars
Valhalla Guitars
Aviator Guitars
Orn Custom Guitars
Richtone Guitars
Rob Lee Wiring
Spur Guitartech
Relic Age Guitars
RECO guitars
Montgrel Guitars
~Craftsmen~
Dirty Visions FX
Tone Truck Amps
~Shops~



Wildriff Guitars
Amps Guitar Shop